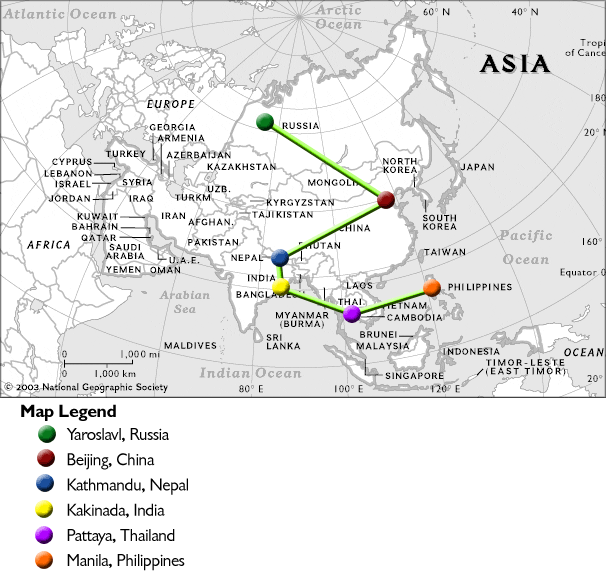 Trip Itinerary
October Yaroslavl, Russia at Internat #9 Orphanage – 190 Children
November/December Beijing, China with China Care
January Kathmandu, Nepal volunteering with HopenHome
February In Kakinada, India (SouthEast coast) with Paparao and Mission to the Nations
March Pattaya, Thailand (Just South of Bangkok on the coast) at Pattaya Orphanage
April Manila, Philippines with Growing Great Kids – Orphanage Staff Trainers
Why? The goal of this journey was to reach out beyond our borders and beyond those where we had reached in the past, in order to gain a greater awareness of orphans around the world. We worked with various organizations to learn which of their activities are effective at ministering to orphaned children. During this trip, we also took as many opportunities as possible to 'do little things with lots of love' to encourage and show compassion to children who really deserve it.
Who? Sally Allred and Josh Perry. We are two friends interested in learning more about and helping orphans in other countries where the needs are said to be among the greatest.
How? We are so passionate about this that the two of us have worked hard to save our own money in order to fund this trip. We have held two fundraisers that allowed us to meet immediate needs of the children and to make contributions along the way.
What have we accomplished? In each orphanage, we worked as volunteers trying to have as much one-on-one contact with the children as possible. Our duties in each place ranged from teaching English to the children and the staff, to coordinating activities for the children, to teaching Early Childhood Development Strategies to the staff (Sally is a pre-school teacher) and teaching Bible if asked to do so. Josh took part in some of the above activities and a variety of other tasks, such as outdoor activities with the kids. In addition we were able to make a number of contributions to meet vital physical and medical needs of a number of orphaned children.