Portion for Orphans: Trips and Events
Marshall Hope Run 2008



2008

Saturday,

January 5

9:00 AM

5K Run & 1-Mile Walk, Downtown Marshall, TX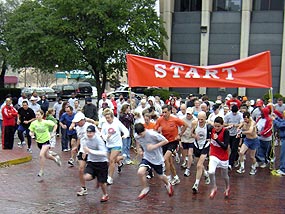 The Marshall Hope Run and Walk 2008 was a huge success! Participation rose from 89 runners and walkers last year, to 151 this year. Last year, about $5,000 came in during the week of the race. This year, approximately $8,000 was received in registration fees and donations within a two-week period surrounding the event. We thank all the participants, volunteers and supports for making this event possible! In particular, we would like to thank the following sponsors: Allred Veterinary Hospital, East Texas Sports Center, the UPS Store, Maverick Finance, and the Grub Sack. Please visit hoperun.org to view the results of the 5K run and to see the Hope Run picture gallery.
---
Hope Run 2007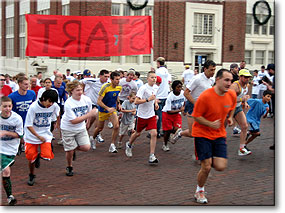 The 4th Annual Hope Run took place on January 13th, 2007 in Marshall, Texas. It was awesome to see so many people taking part in helping to meet needs of orphans overseas. Thanks so much to all of you for helping in so many ways!!! And Praise God that the '100% chance of thunderstorms' predicted by the weather forecasters for the morning of the Hope Run did not become a reality. : )
We had 89 runners and walkers, lots of volunteers and we raised just under $5,000!!! 100% of that will directly benefit orphans in the orphanages mentioned below. (Donations do not cover administrative or travel expenses of Portion for Orphans Directors or the cost of the Hope Run).
[Click here to view more pictures]
---
Working with orphanages in Eastern Europe and Asia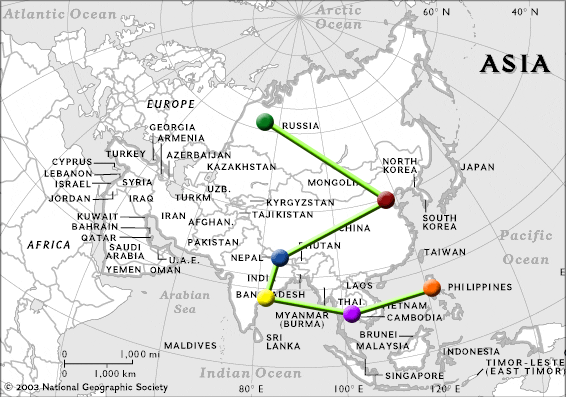 Trip Itinerary

October Yaroslavl, Russia at
Internat #9 Orphanage - 190 Children
November/December Beijing, China
with China Care
January Kathmandu, Nepal volunteering with HopenHome
February In Kakinada, India (SouthEast coast) with Paparao and Mission to the Nations
March Pattaya, Thailand (Just South of Bangkok on the coast) at Pattaya Orphanage
April Manila, Philipines with Growing Great Kids – Orphanage Staff Trainers
Why? The goal of this journey was to reach out beyond our borders and beyond those where we had reached in the past, in order to gain a greater awareness of orphans around the world. We worked with various organizations to learn which of their activities are effective at ministering to orphaned children. During this trip, we also took as many opportunities as possible to 'do little things with lots of love' to encourage and show compassion to children who really deserve it.
Who? Sally Allred and Josh Perry. We are two friends interested in learning more about and helping orphans in other countries where the needs are said to be among the greatest.
How? We are so passionate about this that the two of us have worked hard to save our own money in order to fund this trip. We have held two fundraisers that allowed us to meet immediate needs of the children and to make contributions along the way.
What have we accomplished? In each orphanage, we worked as volunteers trying to have as much one-on-one contact with the children as possible. Our duties in each place ranged from teaching English to the children and the staff, to coordinating activities for the children, to teaching Early Childhood Development Strategies to the staff (Sally is a pre-school teacher) and teaching Bible if asked to do so. Josh took part in some of the above activities and a variety of other tasksk, such as outdoor activities with the kids. In addition we were able to make a number of contributions to meet vital physical and medical needs of a number of orphaned children.
---
Hope Run 2005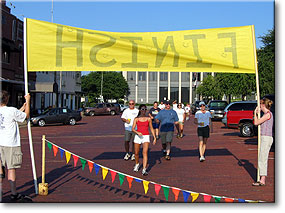 More than 60 people participated in various ways in the Third Annual Hope Run held on August 20, 2005 in Marshall, Texas.
Through this 5K run and 1 mile walk Portion for Orphans raised over $3,000. 100% of the proceeds of the event will be used to meet the direct needs of orphans in Eastern Europe and Asia.
---
Working with an Orphanage in Mombasa, Kenya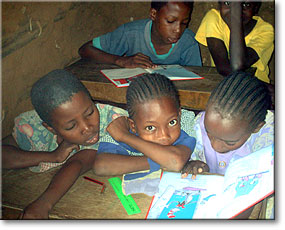 Portion for Orphans worked with children at St. Joseph House of Hope in Mombasa Kenya. By being there personally as well as raising funds for the orphanage, Portion for Orphans left a lasting impact on children in Kenya. Improving the facilities of the orphanage, supplying meals for 300 children, teaching English and Math, providing medical care to critically ill children are just a few of the many ways in which Portion for Orphans touched their lives.
View picture gallery from St. Joseph House of Hope.
Read newsletters from Mombasa, Kenya.

---
Hope Run 2003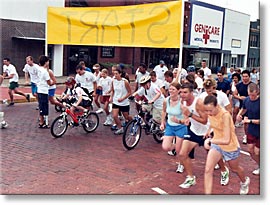 Portion for Orphans expresses its sincere appreciation to the many enthusiastic supporters, sponsors, participants and volunteers of the Hope Run 2003 fundraising event. More than 150 people took part in this worthy project: 107 participants registered to walk or run, while over 40 volunteers kindly offered their time, energy, encouragement, and numerous other gifts. Contributions of each individual participant worked together to make the Hope Run a truly successful event.
As a result of the overwhelming generosity of businesses in our community, we are proud to announce that every penny of registration fees went directly to Joseph's House of Hope in Mombasa, Kenya. The Hope Run raised over $2,000, which translates into over 90,000 Kenyan shillings. This amount goes a long way in Kenya, and, at Joseph House of Hope, these funds have accomplished a lot!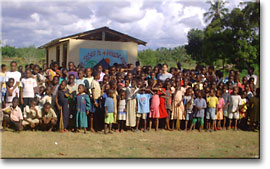 Carol Bockle is the founder of the Joseph House of Hope and currently oversees all of the children there. Before the Hope Run took place, Carol had a vision of using the proceeds of the fundraiser to purchase two new sewing machines for the girls and several new carpentry tools for the boys. The children are learning crucial skills that help them, as well as their school and their orphanage become self-sufficient. It's difficult to express how overjoyed and thankful she was to learn of the success of the 2003 Hope Run. Thank you for making a difference!